The Censored Image and My Response
On April 19, 2012, I was accepted as an artist into the West Chelsea Artists Open Studios. On May 1, 2012, I was removed from the event by the director, Scotto Mycklebust. The removal came after I submitted the image you see below as my feature art for the event's promotional materials. I was told in an email from the director that I was being removed because my art was an "ad" and that I am a "commercial entity" and "not an artist." In protest of this blackballing, I will hold my own Independent Open Studio on May 13 from 4 – 8 pm at the Hôtel Americano in Chelsea (518 West 27th Street, NYC). At that event I will show my work and host an open discussion forum on the issues of ads vs. art, commercial entity vs. artist, and the professional segregation of women who use the performative body provocatively. Below the following censored image can be found the full story and my response to this act of censorship.
Press: As the following cover stories on ArtInfo.com and Culturebot.net explain, there's a "fascinating little art world tizzy" occurring around this censorship. In fact, the Culturebot critic compares my art and the controversy it's aroused to Marina Abramovic, Damien Hirst, Marcel Duchamp, Laurel Nakadate, and Mami Kotak.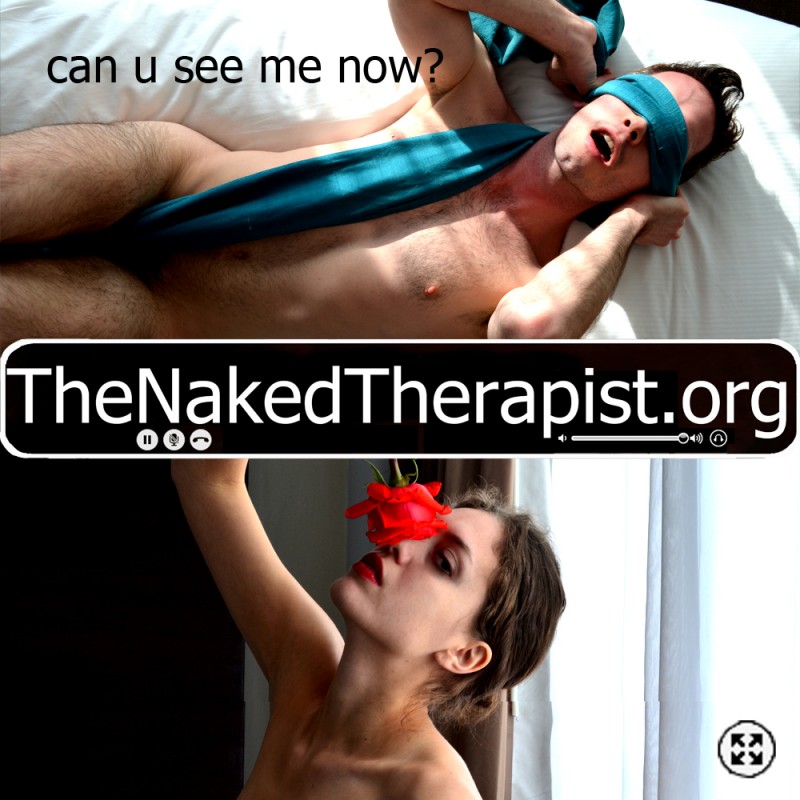 The Full Story and My Response:
On April 19, 2012, I was accepted as a West Chelsea artist into the West Chelsea Artists Open Studios (WCAOS) after the event's director, Scotto Mycklebust, viewed my photographic work and heard my plan of showing my photography and presenting a performance art piece in a room at The Hôtel Americano in Chelsea. He was fully aware of my work as The Naked Therapist.
I continued preparing for the event, and on May 1, 2012, seven minutes after submitting the piece of art you see above for my feature image, I received this email (his words, my sics):
*
Sorry, Sarah I cannot use this image. It is an ad and ads are not allow (sic).
I decide to remove you from the event. This is only open to practicing artists. I was very clear about that in our meeting. You are clearly a commercial entity and a not an (sic) artist.
Scotto Mycklebust
*
Given that the WCAOS is an Open Studio event (not juried on the value of the art) and that I was already accepted as an artist into the event, I was quite surprised. I believe this act of censorship dangerously weighs in on artistic freedom and brings up important questions about commercialism, Internet art, and the female body.
On the issue of ad vs. art…
Why has Mr. Mycklebust decided that the image I submitted is an "ad" and not art? Is it that it contains a photo of me and that such photos have at times been used to promote my commercial activities? In that case I would point out that just like Keith Haring had a stock artistic vocabulary (exploding dog, shagging stick figures, etc.), my face, my body, Internet icons and my url's are part of my stock artistic vocabulary. (The censored image was one in a series of images that you can view here.) Is it because it contains a url? If Damien Hirst put TheRichestArtist.org on an orange field it would sell AS ART for millions at Sotheby's because it would be taken as a profound comment on the money-obsessed art culture. Where is the line between an "ad" and "art"? In a sense, isn't any painting or image made by an artist not an "ad" for the artist? Artworks are indeed for sale, and images of them are passed around in exhibition checklists and other publications with the express purpose of selling.
On the issue of commercial entity vs. artist…
I put the phrases "Naked Therapy" and "The Naked Therapist" on my art as a political statement. As I point out here, I have been censored and banned from Facebook, Master's programs, licensing institutions, the Huff Post, and now an "open" arts festival. Why? Simply because of those words. That's why I put them on my art. To call attention to them, to rouse and challenge the emotions they cause, and to stand up for what I believe in…therapy (and art!) that accepts and engages eros.
On the issue of the female body…
I am a practicing artist. That is why I was accepted into WCAOS. For over a decade I have been a photographer whose work centers on themes of desire, body, sexuality, visibility, catharsis, Americana, e-connections and the forbidden. For the last two years I have been creating art in conversation with my Naked Therapy practice, which focuses on arousal, display, transient spaces, the Internet, the cultural quotidien, relationships, aspiration and the interplay between mentalities.
So why was I removed from the event? Based on how my removal unfolded, it would seem that Mr. Mycklebust doesn't like what I do for a living (Naked Therapy) and he feels that my practicing Naked Therapy, along with my desire to include it in my identity as an artist and my artistic work, means I do not have the right to call myself an artist. I find this deeply troubling. This implies that if a woman utilizes the performative body provocatively in her work, she is delegitimized from using it in her art. My art is informed by the Internet, by performance art, and by commercial activities, which I don't believe should take away my "right" to call myself an artist.
On the issue of censorship vs. freedom…
In 1917, Marcel Duchamp tried to enter a urinal as a piece of art into the exhibition of the Society of Independent Artists. Entitled "Fountain," it was rejected by the committee, even though it was stated in the rules of the exhibition that the event would accept art from any artist who paid the fee.
In 2012, I tried to enter an image that montaged a photo of a man, a photo of myself, and one of my url's into the West Chelsea Artists Open Studio. I was then removed from the event by the director, even though it was stated on the application that the event was "open to all West Chelsea artists."
Duchamp said the urinal was art; I say I am art.
You decide.
Sarah White – The Naked Therapist